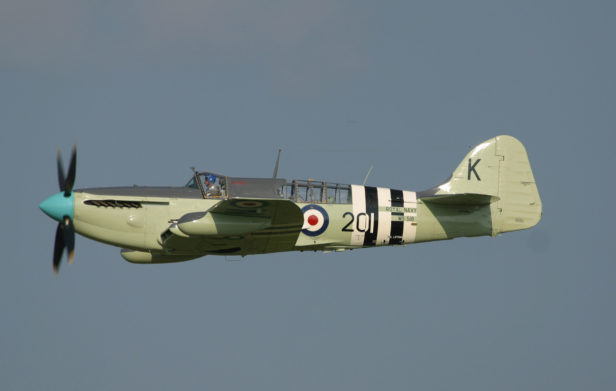 1950 Fairey Firefly AS-6 S/N 135129 (N518WB) described as a "multiple award winning aircraft" has hit the market.
WB518 was one of the first ten MK VI s built but still retains the earlier fuselage of the MK V. The aircraft was originally delivered to 817 Squadron. 817 Squadron then exchanged their aircraft for those of 816 Squadron for duty in Korea… After being flown on the US airshow circuit for a decade, WB518 was damaged in a landing accident in 2012 due to a parts failure on the landing gear. The Firefly was returned to Q.G. Aviation in Colorado who completed the re-restoration in 2019. WB518 made a triumphant public return at Oshkosh 2019.
The airframe reportedly has 1100 hrs TTSN (200 since restoration by Q.G. Aviation, 10 Since IRAN / re-restoration), while the Rolls Royce Griffon 74 engine has 10 SMOH by Vintage V-12s. The machine is touted as winner of Grand Champion-Post WW2 (Oshkosh 2002), Golden Wrench Award (Q.G. Aviation), 2002 Rolls Royce Heritage Award and People's Choice Award (2002 Rolls Royce Heritage Competition).
The aircraft is located in California and is listed as "make offer." Click here to check out the complete listing.
(Photo: Paulmaz via Wikimedia Commons)