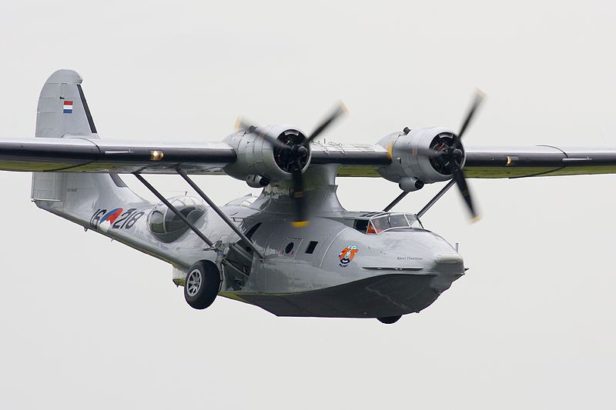 The Collings Foundation of Stow, Massachusetts has announced the acquisition of PBY-5A B/N 2459, which is described as "the oldest and most historically significant" flying example of the type.
Accepted on December 22, 1941, the machine was the fourth PBY-5A amphibian constructed for the US Navy. It was assigned to VP-73 as aircraft number 9 and became the first PBY to sink a U-Boat (U-464) on August 20, 1942. On October 5, it sank U-582 during a convoy protection mission and on June 24, 1943, it destroyed U-194 using a "FIDO" acoustic homing torpedo. Today it is the only known surviving USN aircraft with multiple U-Boat victories.
As part of the Collings Foundation collection, B/N 2459 will be restored to its original 1942 configuration, a process that will see its interior reworked and its clipper bow replaced with a bow turret. It will also be repainted in its VP-73 livery (donations toward this effort are now being accepted here.)
As of this writing, the machine is en route back to the US from the Netherlands. It departed yesterday and is slated to appear at the Reykjavik Airshow in Iceland on June 1. It is expected to arrive into the US after June 3 depending on weather conditions.
(via Collings Foundation Photo: Rob Schleiffert via Wikimedia Commons)