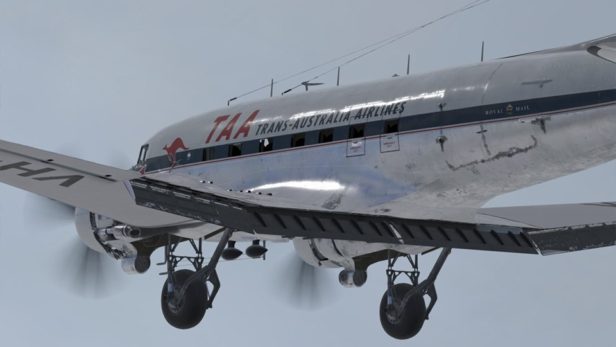 Aeroplane Heaven has published a major update on their upcoming C-47/DC-3 for P3DV4.4+.
According to the announcement, the offering will include exterior models for the C-47 Skytrain (with droppable paratroops) and DC-3 (P&W engines, left passenger door; DC-3 P&W engines, cargo/passenger doors; Wright Cyclone engines, right passenger door). These are described as "highly accurate, fully detailed models with many working animations" and "exceptionally high detail, authentic 3D modeled engines complete with individual cylinder fins, valve gear, spark plugs and leads, etc."
As for the interior, the C-47 is described as boasting a military-style cockpit with detailed fittings and controls as well as a provision for "modern" avionics concealed behind the working Sperry Gyropilot panel. A full paratroop cabin with paratroops preparing for a drop will reportedly be available as an option. The cockpit of the DC-3 civilian version is said to be fitted with Flight 1 GNS and REX WX integration in a hidden compartment. Each is described as featuring "highly accurate and beautifully modeled controls and equipment as per the real cockpit." Flight dynamics are reportedly "authored by some of the best in the business and are very accurate to the real machines."
As previously reported, the product is touted as "the most detailed, Hi-Definition models of this aeroplane ever produced" and will focus on the historic C-47 "That's all Brother," which led the armada of Skytrains across the English Channel to Normandy on June 6, 1944. However, a wide choice of C-47 Military and DC3 Dakota civilian marking options will also be included (at the moment the team reports that there are 49 liveries, most of which are still to be painted).
The developer notes that specifications may change a bit as release draws near, although a final release date has not yet been announced. Check out the complete announcement below.
(via Aeroplane Heaven)