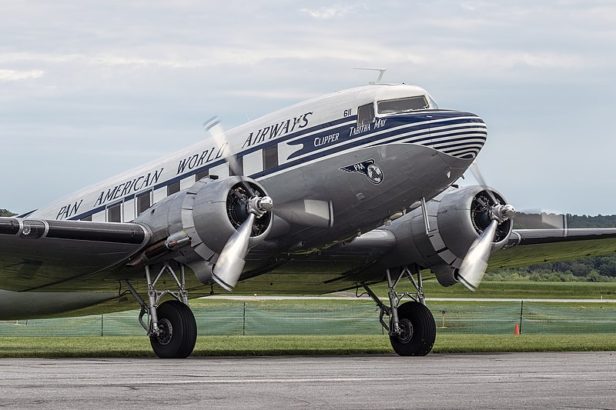 A "one of a kind, corporate configured" Douglas DC-3 (S/N 34378 / NC33611) is available for sale. The listing states (in part):
One of a kind corporate configured 1945 Douglas DC-3. S/N 34378 is the former transport of the Columbia Broadcasting System, Outboard and Marine Manufacturing and EAA. Low total time with only 17,896 hours. This DC-3 was the last of its model to operate carrying passengers for a Part 121 Air Carrier on the US registry and also has a number of historic aviation figures in its logbook such as Paul Poberezney and Jimmy Leeward to name a few. S/N 34378 was the cover for Flying Magazine in August 1981 and AOPA Magazine in December 2016. This is a rare turn-key opportunity to purchase an exceptionally cared for DC-3 with spare parts and support equipment.
The aircraft is reportedly powered by Pratt & Whitney R1830-94 engines with 152 and 920 SMOH by Anderson Aero Engines in 2013. The machine is located in Virginia with pricing available upon request. Click here to check out the complete listing.
(Photo: Acroterion via Wikimedia Commons)