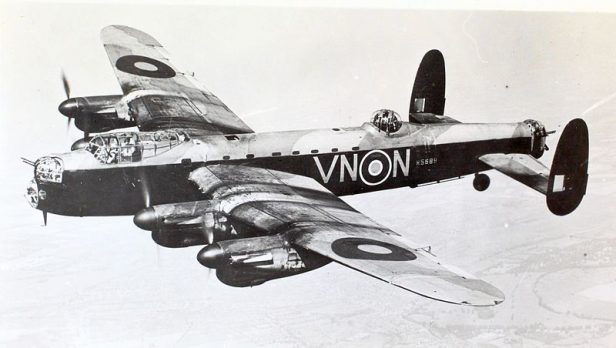 The Bomber County Gateway Trust's effort to erect a monument to Bomber Command in Lincolnshire featuring a full-scale representation of the Avro Lancaster is closer to becoming a reality after North Kesteven District Council's Planning Sub-Committee reportedly received a recommendation to approve proposals for the project.
As previously reported, the monument would represent R5689 (pictured above), which is believed to be the most photographed Lancaster of the war, likely because it was used in literature to train pilots to identify the type. R5689 served with 50 Squadron RAF and crash landed at Thurlby Top Wood while limping home to RAF Swinderby after a mission on September 18, 1942 – an incident that claimed the life of RCAF crew member Sgt. J.R. Gibbons.
The installation would consist of a steel frame mounted on a slim steel support structure to give the impression that the Lancaster is in flight. It would be situated at at Brills Farm just off the A46 in Norton Disney, where it would be seen by tens of thousands of commuters daily.
Residents in the area have reportedly expressed overwhelming support for the project, viewing it as a fitting memorial to the RAF.
The committee will reportedly make a decision during a meeting on April 24.
Check out design some of the design proposals below.

(via The Lincolnite and Bomber Gateway Trust)