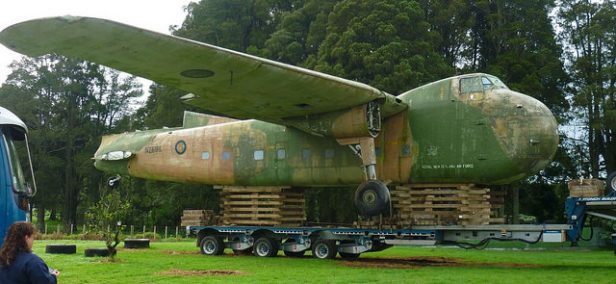 Earlier today, one of the last remaining Bristol Type 170 Freighters was transported to Filton where it will become part of the new Aerospace Bristol museum.
Designed and built by Bristol in 1944, the type served as a both a freighter and as a passenger airliner. Although 214 were built, only 11 remain and, until now, none of them were in Europe.
The arrival of NZ5911 (a Mark 31M military variant of the type) caps off an 11,000-mile journey that began at Ardmore Airport in New Zealand back in October. Its journey took it to Singapore, Jordan and Athens before it arrived in the UK on December 28th (its first return since 1954).
The journey to Filton began at Portbury Dock aboard a Kings Heavy Haulage truck, traveling the M5 and A38 to the Brabazon Hangar where it will be stored and assessed by the Aerospace Bristol team. A timeframe for restoration and public display has not yet been established, as fundraising is still ongoing for its hangar.
Click below to check out a video of today's journey, as well as photos of the fuselage following its arrival.
LIVE: Bristol Freighter gets transported to Filton

Posted by BBC West on Thursday, January 4, 2018

(via Aerospace Bristol, BBC West and Bristol Post Top Photo: Gary Danvers via Flickr)