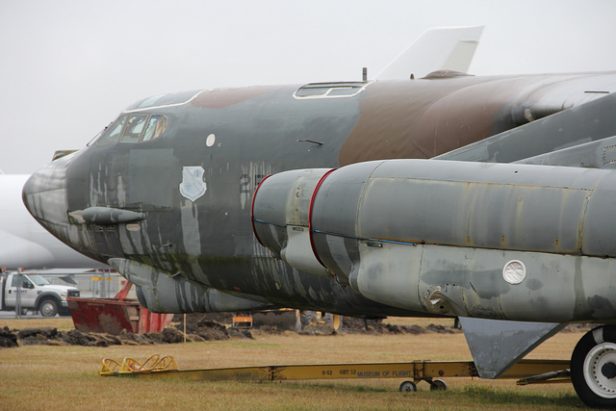 On Sunday, the newly restored B-52G Stratofortress "Midnight Express" arrived at the Museum of Flight in Seattle. The Welcome Home ceremony saw the machine's restored fuselage transported from Paine Field in Everett to Raisbeck Aviation High School, traveling down East Marginal Way South.
As previously reported, the bomber (S/N 59-2584) had been parked outdoors at the museum's Paine Field facility for the past 26 years. A $2.2 million effort was launched to restore the machine for use as the centerpiece of a new Vietnam Air War Memorial Park, which will pay tribute to the aircraft of the Vietnam War and honor the service members who flew and supported them.
The fuselage was the largest and final piece of the restored aircraft to arrive the museum, where it will eventually be reassembled for display in the new park, which is set to open on November 11.
Click below to check out photos and video of the event.

To learn more about the Vietnam Memorial, click here.
(via Museum of Flight Top Photo: Clemens Vasters via Flickr)