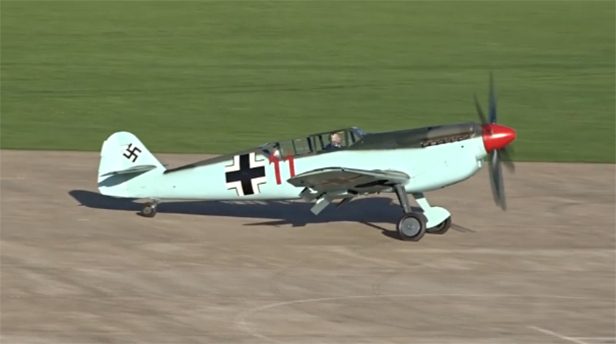 After performing its first post restoration flight at Sywell Aerodrome in November, Hispano HA-1112-M4L S/N 40/2 (G-AWHC) has hit the market.
As previously reported, the aircraft is the only remaining example of the two-seat, dual control aircraft built by Hispano Aviación. Constructed in 1954, it served with the Spanish Air Force until the type was retired in 1965. Soon thereafter it became one of 27 Buchóns gathered by Hamish Mahaddie for use in the 1967 film The Battle Of Britain.
The production included input from WW2 aces Robert Stanford Tuck (RAF) and Adolf Galland (Luftwaffe) who reportedly went flying together in G-AWHC in order to "compare notes." After filming was complete, the machine became part of Connie Edwards' collection in Texas before being acquired by Air Leasing, Ltd. and relocated to the UK for restoration to airworthy condition.
The Merlin-powered machine is said to be "very attractive from an investment point of view" with "enormous potential as a revenue earner providing passenger flights to history and movie buffs alike (subject to authority approval)."
The HA-1112-M4L is currently available for $5,999,999. Click here to check out the complete listing.
(Top Photo via Sywell Aerodrome)