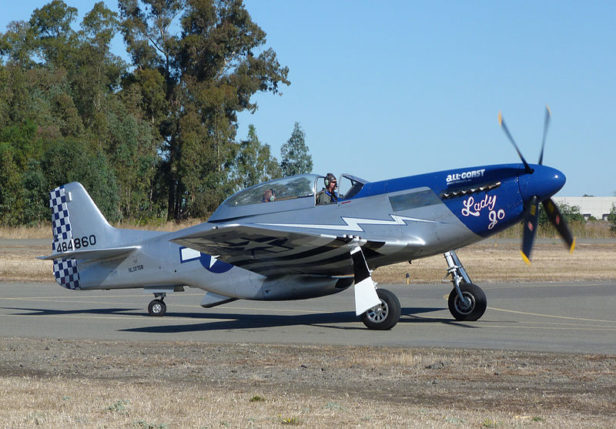 North American TF-51D N327DB (S/N 44-84860) has hit the market.
The airframe reportedly has 2841 hrs total time (1841 hrs since restoration) while the Packard V-1650-7 engine (with 500 Series Heads and Banks / Carbide fingers installed) has 26 hrs since overhaul by Mike Barrow.
The machine reportedly features an avionics package, dual cockpit controls with instruments and throttle / prop controls, Hooker harness, high pressure oxygen (both seats), newer style panel with 3″ gyros, etc. A lengthy list of spares is also included, including a zero time Packard V-1650-7 engine with 500 series Heads and Banks (transport) / carbide fingers, set of main landing gear parts, three main wheels, tailwheel and tire, right wing tip / extension panel and misc boxes of small parts.
The aircraft is located in Santa Rosa, CA and is currently being offered for $3,350,000. Click here to check out the complete listing.
(Photo: Bill Larkins / CC BY-SA via Wikimedia Commons)