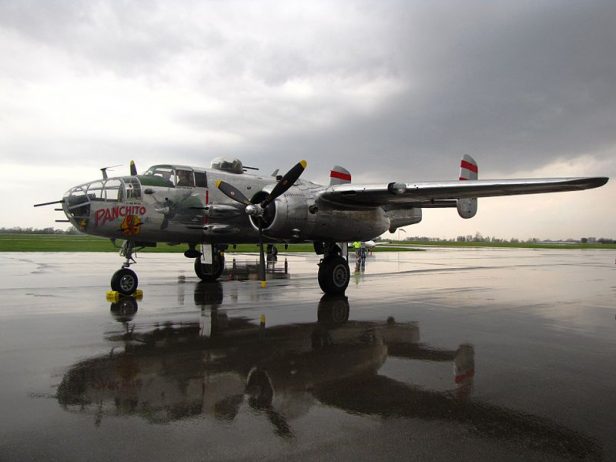 TB-25N "Panchito" has hit the market.
The aircraft (S/N 44-30734) is touted as "one of the most well-known B-25 aircraft in the world," serving as "lead aircraft at many events celebrating the Doolittle Raiders in the past 10 years, Superbowl XXXIX, Indy 500, Preakness Race and NASCAR races."
The airframe has reportedly amassed a total time of 2950 hrs since "total restoration" while the two Wright R-2600-35 engines have accumulated 400 hrs each SMOH by JRS and Cascade Engine Service. The machine is said to include an avionics package as well as recent brakes, a Norden bomb sight, Martin top turret, 50 caliber nose (3), waist (2) and tail (2) guns, four fuselage pack guns with rare original metal enclosures, bombs and a removable tail gunner enclosure for photography.
The aircraft is being offered for $1,400,000 and is also said to include an "extensive spares package." Click here to check out the complete listing.
(Photo: redlegsfan21 via Wikimedia Commons)