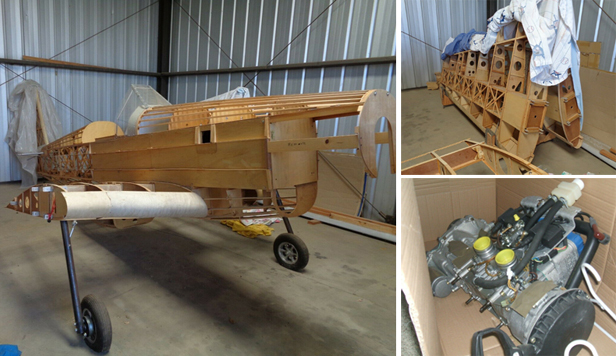 A Loehle 5151 Mustang airframe and engine have been spotted for sale. The listing states (in part):
Up for auction one Loehle P5151 airframe built by master craftsman. Kit was donated to a local EAA chapter still in the crates. A member of the chapter assembled the kit to exacting standard's. He is a 50 year woodworker and contractor. He had previously built a Falco. I purchased the kit from him. I also purchased a complete parts plane with a 2011 582 blue head "0" time with E gear box and electric start and with engine install kit. Second airframe is for parts only, as it is unairworthy. Have assembled the complete kit minus prop and covering materials. Extra fuel tanks and prop spinners. Have all plans and engine install manual and cd for optional fiberglass glass nose kit. Was a $2500.00 dollar option. the engine will need to be resealed due to age, engine is stall factory pickled never has been ran, have all parts to install, carb's, manifolds, and exhaust all new.
The project is located in Valley Springs, California and is currently available for bidding. Click here to check out the complete listing.