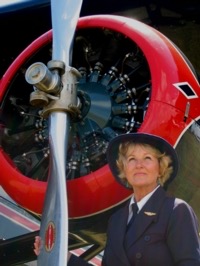 There are people of humility, who have felt as though they did not leave a legacy. But there are those of us they left behind, who know quite well that they did.
​In March 2020, the aviation community lost one of its most ardent advocates, aviation historian, author and publisher, Giacinta Bradley Koontz. Known by her friends and colleagues simply as, "Gia", this self-described "Aviation Anthropologist" received her B.A. in Anthropology from San Diego State University. In 1994 Gia became interested in the life of America's first licensed pilot, Harriet Quimby, later becoming her biographer with the publication of Gia's first book, "The Harriet Quimby Scrapbook, The Life of America's First Birdwoman.
​With a penchant for digging out primary source documents, Gia's passion for aviation research became a lifelong vocation. Between 1995-2000 Gia founded and directed the Harriet Quimby Research Conference and National Aviation History conferences where writers and historians could meet and share their studies. Continuing her research on Quimby, Gia travelled abroad and flew in dozens of vintage aircraft. While investigating and attempting to locate the final resting place of pioneering aviator John Moisant, Gia was led to his grave at the Portal of the Folded Wings in No. Hollywood, California. Alongside John was his sister, Matilde (the 2nd American female to earn a pilot's license) and many other aviation pioneers, including the Wright Brothers mechanic, Charles Taylor. Gia was inspired to preserve their histories.
​Between 1995 and 2001 Giacinta was the founder and director of the Portal of the Folded Wings Shrine to Aviation and Museum and in 2002 she assisted in writing the first state Resolution honoring Charles Taylor and other aviation pioneers buried there. After 2006 Gia began writing feature articles for Aircraft Maintenance Technology Magazine and was soon added to the staff of Camp Systems International's InSight, as well as several other aviation publications such as Director of Maintenance (DOM). The year 2008 brought her to the NASSCO shipping yards in San Diego for a feature article on the construction of the USNS Amelia Earhart, published in Logbook magazine. Two years later Gia's story on Charles Lindbergh graced the cover of the Smithsonian's Air & Space Magazine.
​In 2008, Giacinta was the recipient of the National History Medal from the Daughters of the American Revolution. In 2011 her book, Pioneer Mechanics in Aviation received Honorable Mention in the New York Book Festival Awards. The following year, Gia was chosen to receive the Long Island Aviation Hall of Fame honors for Harriet Quimby. During the many years that she shared her passion for aviation history, Gia gave hundreds of multi-media presentations on early aviation, including appearances at EAA AirVenture and featured appearances on PBS and the History Channel. In addition to her contributions to dozens of history books, she authored four books of her own, The Original Grand Canyon Airport & The Harriet Quimby Scrapbook in 2012, Pioneer Mechanics in Aviation, 2014 and Aviation Campfire Stories in 2015.
​Thanks to Gia's efforts in 1998, the Portal of the Folded Wings, Shrine to Aviation and Museum was added to the U.S. National Registry of Historic Places. To pay tribute to Gia's lifelong dedication and her legacy toward the preservation of aviation history, the 'Friends of Gia' have initiated a GoFundMe appeal for the funding and placement of a bronze memorial plaque to be placed within the interior of the Portal of the Folded wings in 2021.
For more information on this appeal, or to place a donation, please see: https://www.gofundme.com/f/friends-of-giacinta-bradley-koontz
No donation is too small.
Written & submitted by Jules Blum for "Friends of Gia"