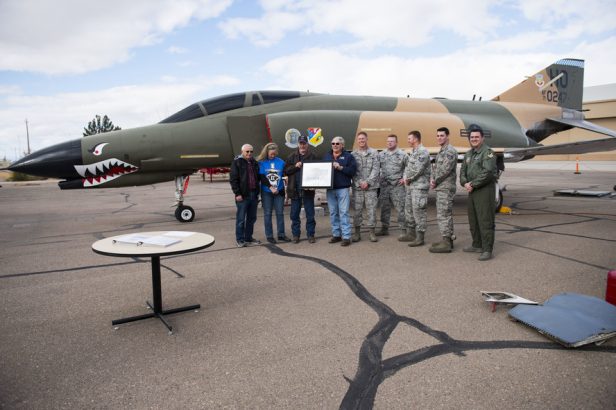 Following a community effort begun by two USAF veterans, F-4E-48-MC Phantom II 71-0247 has arrived at its new home in Grove, Oklahoma.
The aircraft performed its maiden flight in 1972 and went on to serve with the 4th, 52nd and 37th Tactical Fighter Wings, operating in North Carolina, Germany and California, respectively. The machine was retired from service in 1990 and was parked for a time in Arizona before being transferred to Holloman AFB in New Mexico, where it saw use as a ground trainer.
By 2017, the Phantom was awaiting donation through the GSAXcess SASP system, which prompted "Friends of the F-4 Phantom" and the Grove, Oklahoma city council to request the aircraft for use as a memorial for current and past members of the military.
The request was granted in April 2016 and last month Worldwide Aircraft Recovery began the process of relocating the Phantom to its new home. The move was completed on Wednesday, and the aircraft is now positioned on property donated by Ferra Aviation and located adjacent from its facility at Grove Municipal Airport.
Click below to check out photos of the relocation and display at the new site.

(via Worldwide Aircraft Recovery and F4 Phantom Grove Community Foundation Top Photo: U.S. Air Force by Senior Airman Chase Cannon via Holloman AFB)