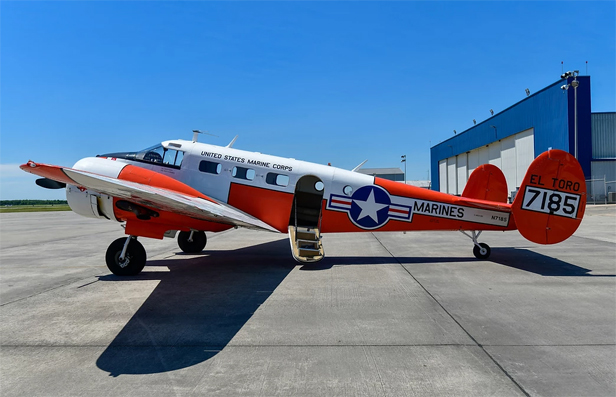 A "beautifully restored" 1952 Beechcraft Expeditor 3MN (S/N CA-104 / N7185) has hit the market.
Originally built as a 3NM Navigation Trainer for the Royal Canadian Air Force, this beautiful Beech-18 was returned to SNB-5 configuration during a 2000-01 restoration. Sold by the RCAF in the late 70's, it subsequently went through a number of owners but has never been a freighter.
The airframe reportedly has 6970 hrs TTSN (628.9 Hrs since restoration by General Aviation Services), while the two Pratt & Whitney R985 AN-1 engines have 628.9 hrs SMOH by Covington (11/04/98). The aircraft reportedly includes an avionics package, Shadin Digiflo-L fuel flow, co-pilot instruments, 286 gallons of fuel (giving an approximate seven hours endurance with a maximum take-off weight of 9300 lbs), authentic 1950's USMC paint scheme and a comfortable six-place leather executive interior featuring a couch, writing table, headphone jacks and power outlets.
The machine was featured in the May/June 2016 issue of Warbirds Digest as well as the 2011 Ghosts calendar (Nov.) and was even the subject of a die-cast model. It is located in Texas and is currently being offered for US$199,500. Click here to check out the complete listing.
(via Platinum Fighter Sales)