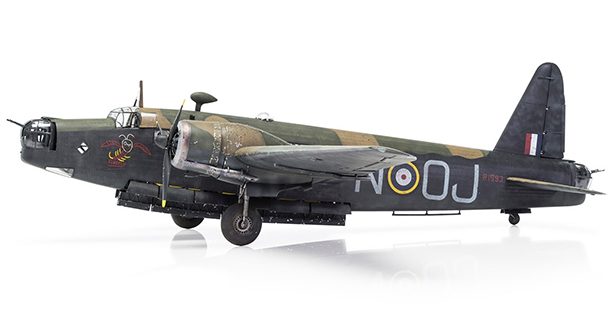 Airfix has released their new tool Vickers Wellington model kit in 1/72 scale.
As previously reported, the kit (A08019) was designed with the aid of original engineering drawings and other rare Wellington information to provide historical accuracy and "impressive levels of detail."
It reportedly includes decals representing Mk.1A N2980 "R" Robert of No 20 Operational Training Unit and Mk.1C L7818 of No 75 [New Zealand] Squadron. The latter machine is also featured on the kit's box art and is depicted after it was attacked by a Messerschmitt Bf 110 during a bombing run over Germany on the night of July 7/8, 1941. The machine was severely damaged and a fire had erupted on the starboard wing, prompting Sergeant James Allen Ward to climb out of the bomber's astrodome hatch and attempt to smother the flames with a canvas cockpit cover. The dangerous gamble paid off and he was able to stop the spread of the flames, allowing the aircraft to return home and earning Ward the Victoria Cross.
Product Page ($40.33)