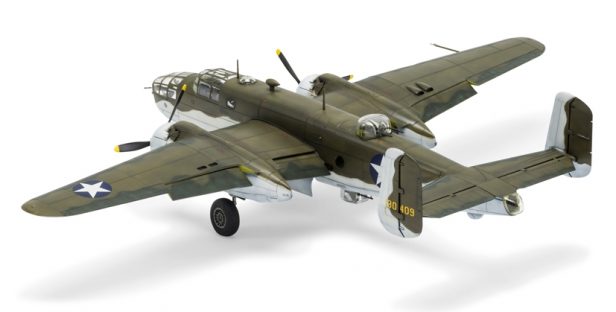 Airfix has released their new tool B-25C/D Mitchell model kit in 1/72 scale.
As previously reported, the offering (A06015) serves as a 21st century upgrade to the company's previous 1/72 B-25 (which was originally released in 1965), utilizing "the very latest design and production techniques." The kit is touted as "a highly accurate" representation of the machine, created with the aid of original construction drawings obtained from the Smithsonian as well as data gathered from an up-close inspection of B-25D FR193 (41-30792) based at the National War and Resistance Museum in Overloon, Holland.
Special attention has been paid to accurately reproducing the type's "distinct gull-winged appearance," which includes "a slight anhedral being incorporated to the outer wing area from the engine nacelles outwards." Two livery options are also included representing B-25D-15 41-30409 "Lady Jane" of the 23rd Anti-Submarine Squadron and B-25C 41-12860 "Desert Warrior" of the 12th Bombardment Group.
Product Page ($32.47)