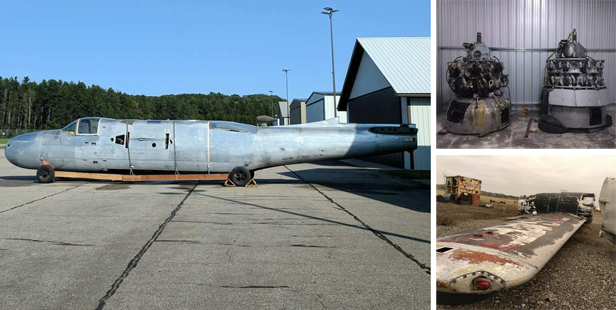 A "complete" Douglas A-26B Invader S/N 4139486 (N26VQ) has been relisted for sale. The listing states (in part):
Would be a great display aircraft, restoration or for parts. I do not have a parts list for the airplane. Has military paperwork. No civilian log books… Lot of New old stock parts at this airplane. Too many to list. Anyone that's interested in buying this project needs to inspect the aircraft before purchasing. The wings are damaged from a wingstorm from sitting outside. This airplane also includes a semi truck trailer to move the fuselage. The aircraft is stored inside, with the engines and props. But the wings are outside. This is a stock A-26 so it has the military parts with it, including gun sights, ammo cans, Bombay doors and much more… No gun turrets. Second set of cockpit controls.
This particular A-26 reportedly has military history, serving in WW2 and in Korea under the name "BOOTS II" from Missouri Air National Guard (MO ANG). The seller states "I would like to sell everything together. However I may consider selling individual parts. Will consider flying aircraft on trade. Looking for a twin Bonanza."
The aircraft is located in Iron Mountain, Michigan and is currently being offered for US $45,000. Click here to check out the complete listing.