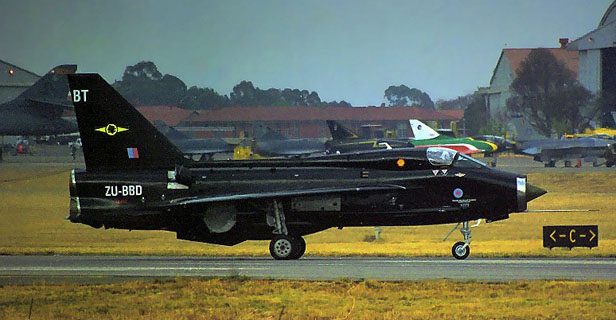 Please Note: This is an archived post. The information presented here may not be current and the associated listing may no longer be active.
Three examples of the English Electric Lightning described as "airworthy" are currently available for sale.
ZU-BBD (Service Registration: XS452, pictured above) is a two-seat T. Mk5 which was reportedly built in 1965. In 1988 it was delivered to Cranfield and subsequently bought by Tony Hulls and restored. The Aircraft was fast taxied at Cranfield Airshow. It was later bought by Mike Beacheyhead in South Africa and registered as ZU-BBD. The service history is listed as follows:
Service: "452" 226 OCU, "T" 11 Sqd, "X" 111 Sqd, "X" 56 Sqd, Akrotiri Station Flight (Flamingo on PINK fin, pink-blue nose markings), used APC-detached UK Lightning squadrons, "Y" 11 Sqd ('C' Flt). First flight in dark green experimental camouflage. LTF, lent 5 Sqd, "T" 11 Sqd, "Z" LTF, "DZ" LTF, "BT" 11 Sqd.
Also available is Lightning F. Mk6 ZU-BEY (Service Registration: XP693) and ZU-BEW (Service Registration: XR773). Pricing for each machine is available upon application. Click here (ZU-BBD), here (ZU-BEY) and here (ZU-BEW) to check out respective listings.
(Photo (Cropped): Bob Adams from Amanzimtoti, South Africa / CC BY-SA via Wikimedia Commons)