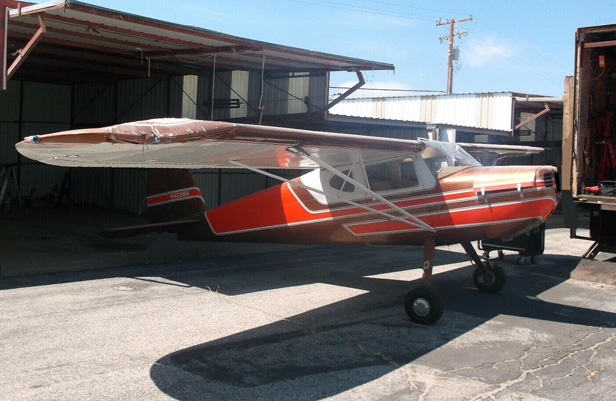 Please Note: This is an archived post. The information presented here may not be current and the associated listing may no longer be active.
A 1947 Cessna 140 airframe has been spotted for sale. The listing states (in part):
1947 Cessna 140 airframe, nice, very little damage, great project, cheap!… Like many owners, the owner of this airplane upgraded the original drum brakes to modern Cleveland disc brakes, via STC. The Cleveland brakes work great! So great in fact, that over-enthusiastic application will result in the airplane going up on its nose, or if applied while there is still some lift on the wings, the airplane may even flip upside down… The cool thing about this incident is that as the airplane went over, it rotated over on the edge of one prop blade, not the lower cowl or firewall!! Not good for the prop, (it was bent) or the engine (prop strike), so they have been unbolted (properly) and are not included here…

Inside, the dash looks very nice and the flight and engine instrumentation are installed and included as shown. The yokes have been upgraded to more comfortable, modern units. The seats are very nice and are of the 150 bucket seat type. Paperwork included is: Airframe logbooks from new 4/1947 to the present, complete and consecutive! 337's, AD complience, a nice ownership history and other misc. Paperwork. And the FAA airworthiness certificate. And the FAA bill of sale!
The aircraft is located in Lancaster, California and is currently available for $4,999, although offers are also being accepted. Click here to check out the listing.