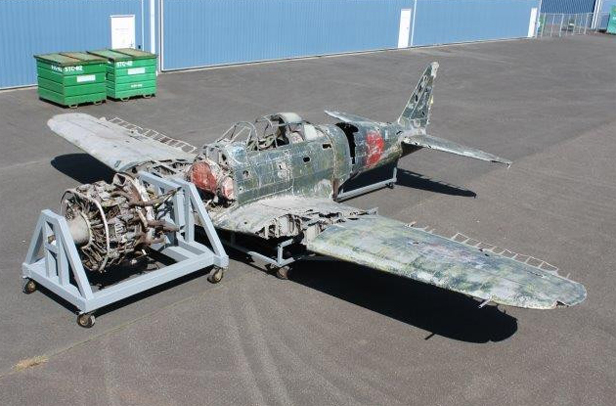 A Mitsubishi A6M5 Model 52 Zero, described as "a time capsule" has hit the market.
The aircraft was "built presumably at the Nakajima No. 2 Koizumi plant in Gunma Prefecture" and bears construction number 1303. It was reportedly assigned to Naval Air Group (NAG) 261 in the 61st Air Flotilla of the First Air Fleet. It received the tail code 61-121 and was eventually captured by the Americans at Aslito airfield on Saipan. It went to Technical Air Intelligence Center (TAIC) at NAS Anacostia for evaluation, where it became "T.A.I.C. 11." In late 1945 it became part of the Victory Squadron's "Navy's Flying Might" tour in support of the last bond drive, but suffered a nose up accident shortly afterward. The engine and propeller were changed, however it was ground-looped and abandoned before rejoining the tour.
Following this, the aircraft was reportedly cut up and went into NAS Atlanta's dump at the north end of the field next to runway 34. It was later retrieved for an open house at the base, being covered with sheet metal and painted with Zero markings. There it was likely seen by James H. Elliott, Sr, who opened the Atlanta Museum in the 1930s.
Mr. Elliott of the Elliott Museum went through congress or the president and was given title of what was left of the Zero. Mr. Elliott had papers which gave him the Zero I had pulled from the dump and removal by NAS to a suitable location… The engine was not in a running condition, but had some cowl attached to it. On verbal orders I took a crane and a lowboy truck (and) moved it from our dump, where it had been returned after the open house, to an outside lot behind the Elliott Museum on Peachtree St. across from the hospital. Due to the width of the driveway back of the lot it took several attempts to get it in and located as Mr. Elliott wanted it placed just so for viewing. It was a piece of junk with very little of the original fuselage or skin left to work with. NAS had reconstructed (it) to look like the Zero had originally looked from a distance only.
The machine had deteriorated in the open yard and suffered the effects of weather and vandalism over many years. In the early 1990s, it was acquired by Don Whittington and relocated to Florida. The current owner purchased the aircraft in December 2000 and registered it on 27 August 2001 (N1303). It is reportedly equipped with a Sakae 21 engine that "appears to be a solid core suitable for a rebuilt to airworthy condition."
The aircraft is currently available for $950,000. Click here to check out the complete listing.