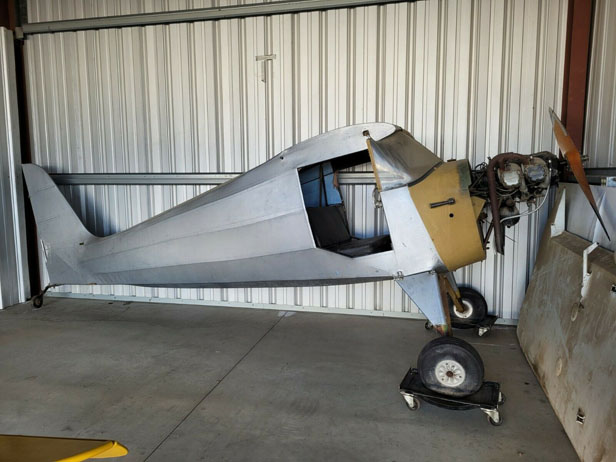 A "barn find" 1939 Aeronca 65C Super Chief project has been spotted for sale. The listing states:
Barn find. Looks complete but needs work. Aircraft will have FAA bill of sale, and has current registration. Serial number is 4939. I am told the Super Chief has a larger A65 engine and might be a little more rare. At least some of the wood spars have rot, but I am told new spars are available at Aircraft Spruce. At least two wing ribs have rodent damage. Fabric was cotton and not good. Fuselage wood stringers are bowed from dope shrinkage, but wood bulkheads look good (see pic). Cowl and nose bowl are there (nose bowl is on top of one wing, see pic). Wood prop and prop retainer goes with it, but don't know prop condition. Currently, brake lining is stuck onto brake drums.

Logbooks only show entries in1964-1965. Original logs missing. I was told the engine is relatively low time and was run within the last year. Engine logbook states that engine had 31 hours SMOH in 1964. 1965-1972 invoices show +.015 cylinders purchased, as well as many other engine and airframe parts, and installed by previous owner. Invoices are available. Appears to not have flown since around 1965. Airframe 1964 logbook states no damage history and airframe in excellent condition. FAA 337 forms show all new wing ribs and leading edges in1965. Aircraft was placed in storage in about 1972 until now. Aircraft is a project and is obviously unairworthy at this time due to dope shrinkage, wood rot, rodent damage, and 50 years of storage. Purchaser to determine condition.
The aircraft is located in Reedley, California and is currently available for bidding. Click here to check out the complete listing.