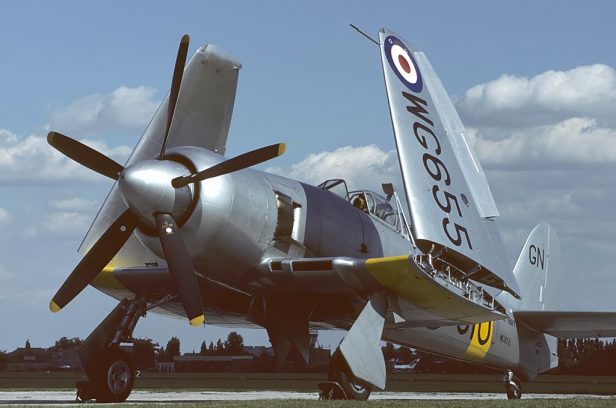 Earlier today, the Fighter Collection's Hawker Sea Fury T-20 WG655/G-CHFP returned to the air for a series of three test flights following a period of re-engineering.
This particular machine was built by Hawker in 1951 and delivered to 781 Squadron. In 1957 it was converted to a target towing configuration and sold to the German Ministry of Defence. It was withdrawn from service in 1976 and ferried to Royal Navy Historic Flight in Yeovilton before being refinished at Royal Navy Air Yard Fleetlands. In 1990, WG655 suffered an engine failure shortly after takeoff, resulting in a wheels-up forced landing and collision with a tree. In 1993, the remains were acquired by Chuck Greenhill of Kenosha, Wisconsin. Restoration was begun by Tim McCarter and his crew and finished by Sanders Aeronautics in California. The aircraft returned to the air in 2005 and was sold to the Fighter Collection at Duxford in 2008.
The recent effort included the installation of a P&W R2800 engine in place of the conventional Bristol powerplant. Future plans, including possible participation at the Flying Legends event this summer, have not yet been announced.
Click below to check out photos of today's flights.

(via The Fighter Collection Additional Information via Flying Legends and Sanders Aeronautics Top Photo: By Mike Freer/Touchdown Aviation via Wikimedia Commons)