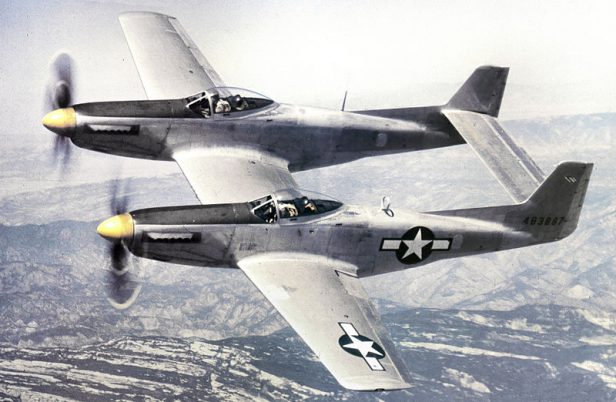 The full restoration of the XP-82 Twin Mustang Prototype (S/N 44-83887, seen above) is "getting close" according to a newly released progress report.
The type, later designated F-82, was designed during WW2 as a long-range escort fighter, carrying a pilot and co-pilot/navigator to reduce fatigue during long missions. Although production orders were not completed prior to the end of the conflict, the F-82 did go on to see service in the Korean War as well as with Air Defense Command, which fitted the machines with radar and used them as replacements for the P-61 Black Widow. A total of 263 examples of the type were produced and it became the last propeller-driven fighter produced in quantity for the U.S. Air Force.
Tom Reilly of Douglas, Georgia acquired the prototype XP-82 from Walter and Margaret Soplata in 2008 and restoration work began that July. Additional F-82 parts were sourced from Alaska and Colorado and a rare, left-hand turning Allison V-12 was located in Mexico. Additional components, including full second cockpit controls and a second canopy (one that "is completely different from any P-51 type") were sourced from San Francisco and Tampa, respectively.
The machine is being restored to airworthy status at the Douglas Municipal Airport and is now equipped with right-hand and left-hand engines restored by Vintage V-12s and new propellers manufactured by MT Propeller of Germany. Click below to check out the recent engine test.

(via Xp-82 Twin Mustang Prototype Project (44-83887) Additional Information via XP-82 Twin Mustang Restoration Project and USAF Museum)