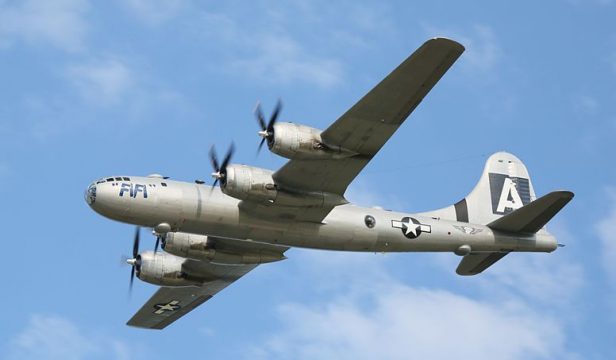 Yesterday, B-29s "FIFI" and "Doc" performed their first flight together over Oshkosh, Wisconsin as part of the 2017 AirVenture fly-in. As the only two flying examples of the type in the world, the occasion was the first of its kind since 1960, the same year the B-29 was retired from active service.
Doc, which is owned and operated by Doc's Friends, Inc., made its debut at Oshkosh this year following a seventeen year restoration. The machine performed its first post-restoration flight in July 2016 and has since appeared at various airshows around the US. Efforts are currently underway to provide it with permanent home in Wichita, Kansas.
FIFI, owned and operated by the Commemorative Air Force, is an air show veteran and one of the main attractions in the CAF AirPower History Tour. Since returning to the skies in the 1970s, the bomber has participated in events from coast to coast and is also available for rides.
The two B-29s reportedly did not fly in close formation during their demonstration, but the event is still a sight to behold. Click below to check it out.
(via AirshowStuffVideos, Doc's Friends and airailimages Photo: wallycacsabre via Wikimedia Commons)