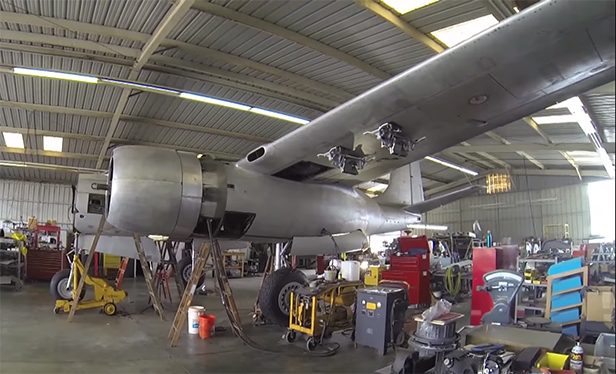 Fantasy of Flight owner Kermit Weeks has published a new installment of his popular "Kermie Cam" series – however, instead of taking viewers aloft one of his historic aircraft, the latest video sees him visiting Chino, California to check on the progress of his Douglas A-26 project.
The aircraft is being restored by Carl Scholl and Tony Ritzman of Aero Trader in Chino, California and is said to be "getting many steps closer to flying again." Recent work has reportedly focused on the hydraulic system which was, at the time of recording, nearly ready to perform a gear swing test.
The aircraft (S/N 41-39401) reportedly saw wartime service with the 9th Air Force and served with the Van Nuys Air National Guard before beginning civilian use as N3457G / "Whistler's Mother." Later acquired by Weeks, the A-26 was damaged during Hurricane Andrew in 1992 and trucked to Chino in 1997.
Click below to check out Kermit's detailed look at the restoration progress.
To check out Kermit's January 2016 visit to the facility, click here.
(via Kermit Weeks Videos Additional Information via Warbird Registry Thanks, Pascal!)