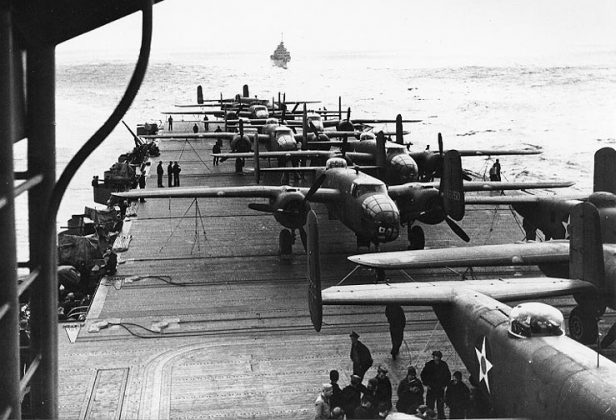 Yesterday, an estimated 16,000 people gathered at the USAF Museum near Dayton, Ohio to commemorate the 75th anniversary of the Doolittle Raid, a daring "one-way" mission which saw 16 B-25 bombers launch from an aircraft carrier to bomb Tokyo following the Japanese attack on Pearl Harbor in December 1941.
The memorial service included a wreath laying at the museum's memorial park, speeches, and a flyover of 11 B-25 bombers and two B-1 bombers from the 34th and 37th Bomb Squadrons. In attendance were family members of the 80 airmen who participated in the operation, as well as 101-year-old Richard E. Cole, the last surviving member who served as co-pilot aboard the B-25B flown by the mission's leader, Lt. Col. James "Jimmy" Doolittle.
During his remarks, Air Force Chief of Staff Gen. David L. Goldein stated:
"… They provided an uncertain America with hope, that yes, the war could be won… The power of a few men ensured that imperial aggression did not go unchecked and they set in motion a course of events shaping the outcome of World War II and our America's future."
The all-volunteer crews faced significant risks during the raid. Only one aircraft managed to land while the remainder were forced to crash land or were abandoned as crews bailed out. Tragically, three of the 80 airmen who participated in the mission were killed. Eight others were captured by the Japanese, three of whom were later executed.
Check out video of the ceremony and B-25 flypast below.
75th anniversary of the Doolittle Tokyo Raid

USAF Chief of Staff Gen. David L. Goldfein paid tribute to the Doolittle Tokyo Raiders today during the 75th Anniversary of the Doolittle Raid Memorial Service at the National Museum of the U.S. Air Force. The service featured flyovers by B-25s and B-1s in honor of these true American Heroes! #Airpower #DoolittleRaid #WWII

Posted by Wright-Patterson AFB on Tuesday, April 18, 2017
Engine start ups on all of the B-25's in attendance at today's flyover in commemoration of the 75th Anniversary of the Doolittle Tokyo Raid.

Posted by Liberty Aviation Museum on Tuesday, April 18, 2017
B-25 Formation Fly over Doolittle Raid 75th Anniv.

Here's a video of the B-25 formation fly-over as part of the 75th Anniversary of the Doolittle Tokyo Raid commemoration events. Check our social media and website for more highlights of the events. #DoolittleRaid #WWII #B25 #B25Mitchell Liberty Aviation Museum Commemorative Air Force B-25 Devil Dog Cavanaugh Flight Museum Yankee Air Museum American Airpower Museum Texas Flying Legends Museum B-25 Champaign Gal B-25 Panchito Commemorative Air Force Minnesota Wing Caf SoCal Commemorative Air Force Missouri Wing

Posted by National Museum of the U.S. Air Force on Tuesday, April 18, 2017

(via Dayton Daily News, Wright-Patterson AFB, USAF Museum and Liberty Aviation Museum)