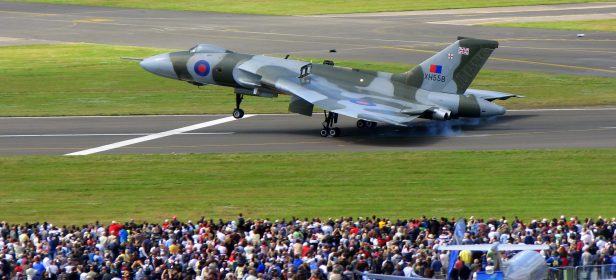 A planning application has reportedly been submitted to Doncaster Council proposing the construction of a new Avro Vulcan tourist attraction near Doncaster Sheffield Airport in South Yorkshire, England.
The plan calls for a new hangar to be constructed on the site of a former sewage treatment works that would serve as a science museum housing aircraft from the Vulcan to the Sky Trust collection, which includes Vulcan XH558 and English Electric Canberra WK163 as well as Supermarine Swift F.4 WK275, which is currently on loan from a private owner.
It is said that the Vulcan would serve as more than a mere museum piece, performing powered taxi runs for the public. The Trust is also looking to restore the Canberra, which set a world altitude record of 70,310 ft in 1957, to airworthy condition.
In addition to the aircraft and a direct existing taxiway to the airport's runway, the attraction would include a shop, cafe, bar, education, conference, office, kitchen and aircraft maintenance areas. The Trust is currently in the process of raising funds for the project, but is also seeking an investor, as the plan will not be able to move forward until one has been secured.
Vulcan to the Sky Trust spokesman Richard Clarke states, "We would like to think when planning permission comes forward we could move forward as soon as possible. That is the aspiration and we wanted to start the ball rolling by putting the planning application in…" As for a timeframe, he says, "We would like to be looking at starting next year, but it is difficult to put a date on it.."
(via South Yorkshire Times Photo: Gregdetours via Wikimedia Commons)