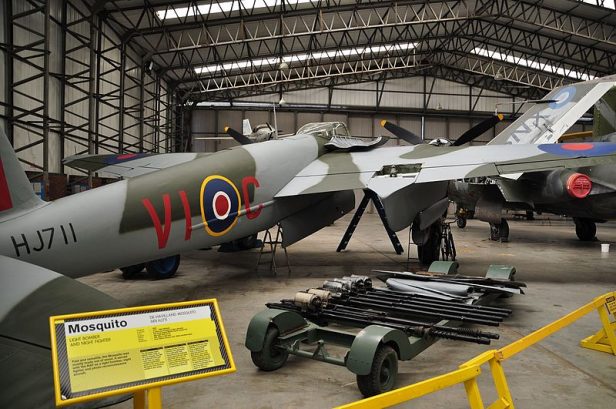 de Havilland Mosquito HJ711 has arrived at its new home in East Kirkby ahead of schedule following disassembly and transport by a joint engineering team.
As previously reported, the aircraft, owned by Tony Agar, spent many years at the Yorkshire Air Museum in Elvington, York before the decision was made to relocate it to the Lincolnshire Aviation Heritage Centre, which has additional facilities available to complete restoration work that will ultimately enable its engines to run for the first time in over 70 years.
The team removed the Mosquito's props and engines and transported them, along with cowlings, flying controls, etc. to East Kirkby on the 28th. The airframe was then disassembled and transported on the 30th.
The aircraft will reportedly remain disassembled until later in August, when "the Mosquito, De Havilland and Lincs Aviation teams will reassemble her in a befitting state with her esteemed hangar mates." Despite this, it has been noted that HJ711 will be visible to the public "in all her engineering glory" during the East Kirkby Air Show on August 5.
(via Lincolnshire Aviation Heritage Centre Photo: By Nilfanion via Wikimedia Commons)