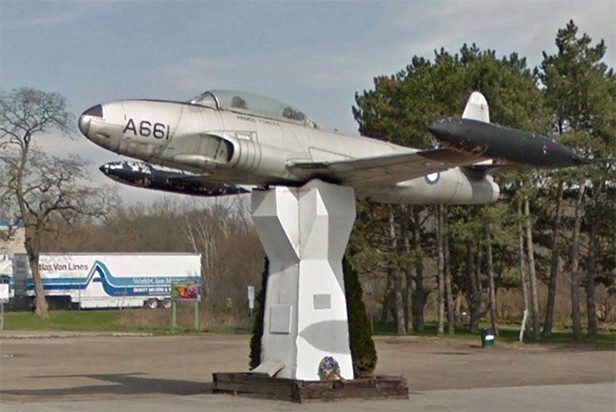 A CT-133 Silver Star on display in Dundas, Ontario has been restored as part of Canada's 150th anniversary commemoration.
The aircraft (S/N 21123), a license-built version of the Lockheed T-33, was built in 1953 and served as a trainer with the RCAF until its retirement in April 1975. In March 1976, the machine was transported by helicopter from CFB Camp Borden to its current location outside the Hamilton Air Force Association building on King Street East, where it was mounted on a pedestal as an armed forces memorial.
The years had taken their toll on the CT-133, prompting a restoration effort to begin last month. With an $11,000 budget, the aircraft was lowered from its perch before a group of volunteers set to work buffing the airframe to a new shine. The team also performed research and ordered custom decals to replace the previous, inaccurate markings with an authentic livery.
The completed aircraft was returned to its position on September 30. Click below to check out local news coverage of the event.
(via CHCH, The Hamilton Spectator and Guelph Mercury Tribune Photo: Google Earth)