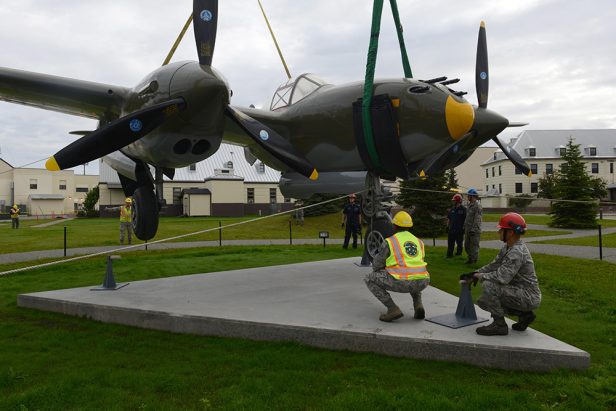 On August 26th, the world's last remaining example of the P-38G Lightning (S/N 42-13400) returned to static display at Joint Base Elmendorf-Richardson in Anchorage, Alaska following a year-long restoration program.
The aircraft was originally constructed by Lockheed in Burbank, California and delivered to the U.S. Army, where it was assigned to the 54th Fighter Squadron bearing the nose number 95. During a training mission over the Aleutian Islands on January 1, 1945, the P-38 crashed into the snow after pilot 2d Lt. Robert Nesmith experienced "a little fluctuation" from the port propeller. The impact tore off the starboard engine and port propeller, but Nesmith managed to escape unharmed.
The machine was stripped of its guns, propellers, instruments and wingtips and abandoned. It remained in its place until June 1999, when it was recovered and transported to Elmendorf. Volunteers began restoration in December of that year and in August 2000 the completed aircraft was placed on display at the McCloud Memorial Park, where it serves as "a reminder of the sacrifices made in the 'Forgotten War' of the Aleutian Island chain."
The recent work was carried out with the assistance of Airmen from the Aircraft Structural Maintenance unit assigned to the 3rd Maintenance Squadron. The effort sought to "fully refurbish the aircraft close to its original design" and included fully documenting the machine before sanding, washing and removing residue. From here, the airframe was primed and painted, with protection being methodically applied to any exposed surfaces.
Regarding the restoration, Tech. Sgt. Matt Monnens, 3rd MXS aircraft structural maintenance chief lead, states:
"It's been a complicated process. The Air Force switched over to flat paint to all active aircraft, [but] most of the historical aircraft are high-gloss paint. When gloss paint is applied, attention to detail is key, because any flaws underneath can be easily seen."
Tech. Sgt. Renee Peaper, 3rd MXS aircraft structural maintenance craftsman added:
"The paint scheme is a lot harder than it looks because of its two-tone color pattern. It has been a struggle for us to replicate the original paint scheme. Even our most talented painters have had difficulty because of all the obstacles we were running into [such as finding the right color-scheme]."
Despite the challenges, the team of more than 30 were committed to achieving perfection, a goal that is reflected in the final product.
Check out additional pictures of the P-38's recent reinstallation below.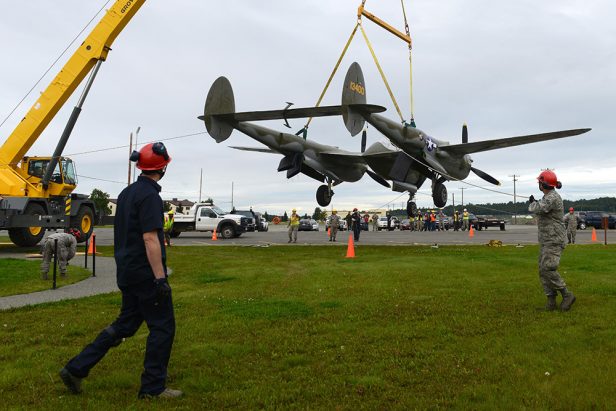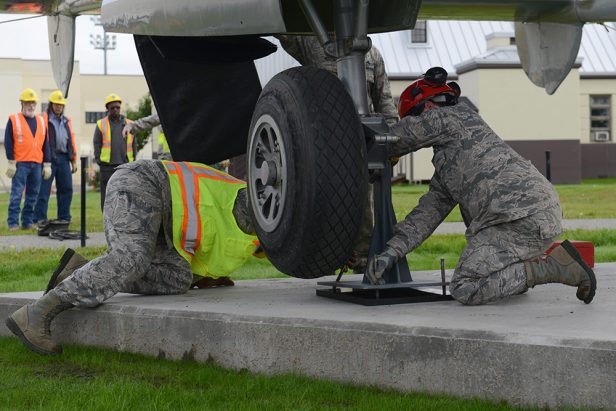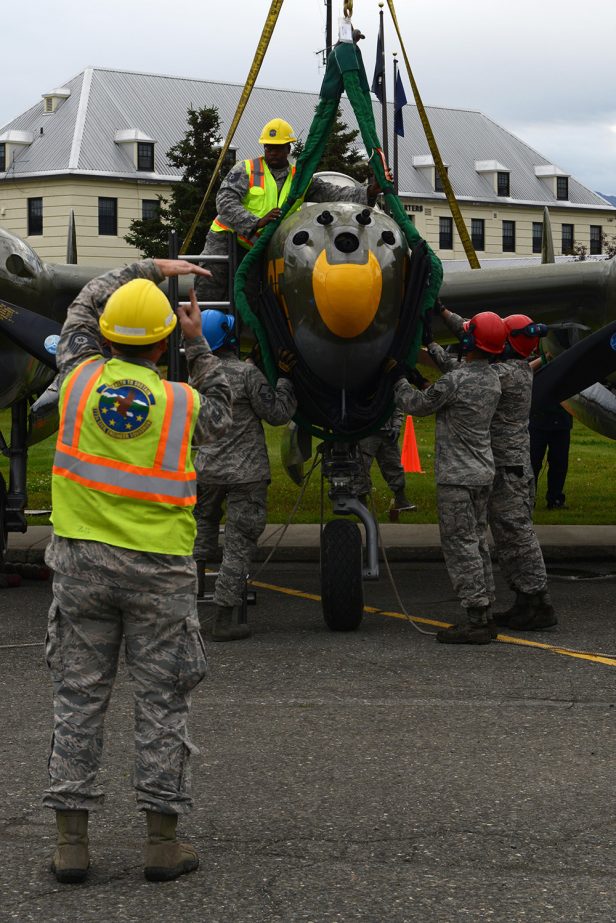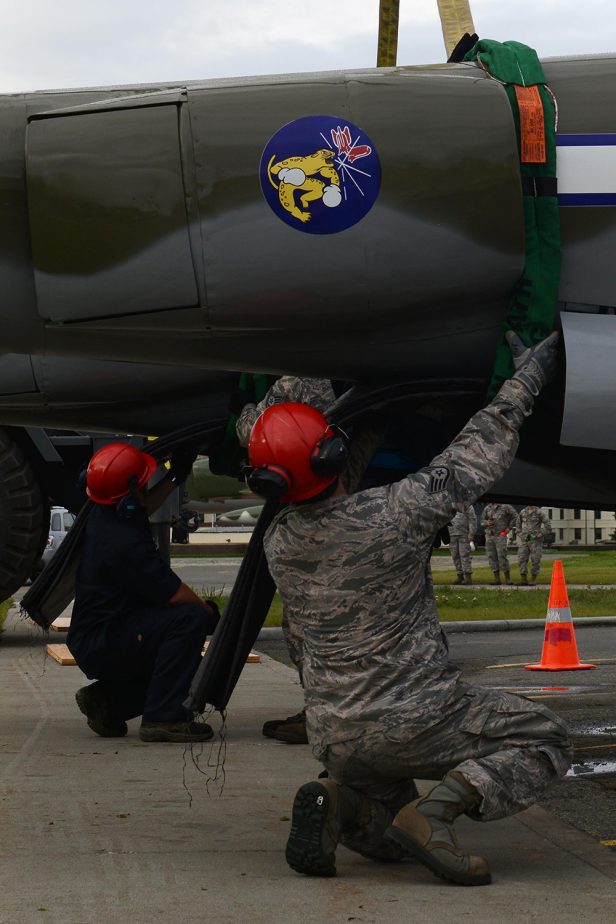 (via Joint Base Elmendorf-Richardson Additional Information via DVIDS, Pacific Wrecks and USAF Photos: Airman 1st Class Christopher R. Morales)