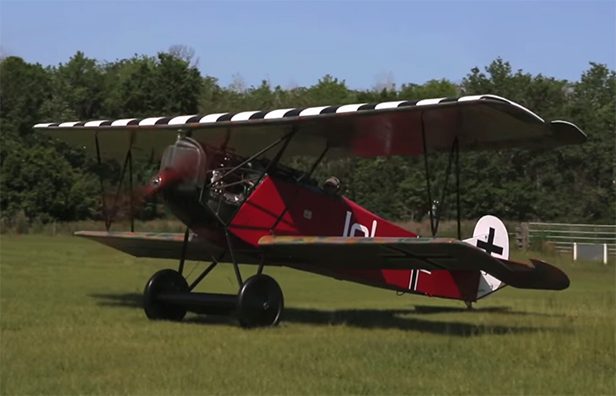 After being on the back burner for some time, Fantasy of Flight owner Kermit Weeks has provided an update on the current status of his recently completed Fokker D.VII.
The reproduction arrived at the museum in 2015 and had since undergone engine and taxi tests. However, there were a few concerns that needed to be sorted out, one of which was said to be an elevator cable that "looked a bit suspicious." As a result, the strength of the cable was tested, a process that was captured in the video below.
The aircraft is fitted with an original, rebuilt Morell airspeed indicator, as well as an original Mercedes engine which was recently overhauled by The Vintage Aviator, Ltd. (TVAL) in New Zealand. The colors represent the machine flown by Ernst Udet of Jasta 4.
Fokker D-VII Elevator Cable Test

Our Fokker D-VII has been on the back-burner for a bit because we had a few concerns we wanted to sort out. One elevator cable looked a bit suspicious and we wanted to test it to see if it was strong enough. There are two of them and I can't imagine putting more that a hundred pounds of tension on it.

Check out our test!

Posted by Kermit Weeks on Saturday, March 10, 2018

(via Kermit Weeks Top Photo via Kermit Weeks Hangar)