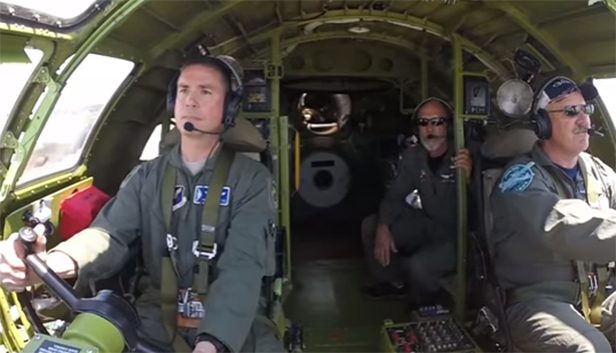 Over the weekend, Brig. Gen. Paul Tibbets IV manned the copilot's seat as the newly restored B-29 "Doc" headed from McConnell Air Force Base in Wichita, Kansas to the Wings Over Whiteman Airshow at Whiteman Air Force Base in Missouri.
As previously reported, Tibbets IV is a B-2 Spirit pilot, the commander of the 509th Bomb Wing at Whiteman and the grandson of Brig. Gen. Paul Tibbets, Jr. who commanded the B-29 "Enola Gay" during its mission to drop an atomic bomb on Hiroshima, Japan on August 6, 1945.
Tibbets IV states that military aviation has played a significant role in the defense of the nation and shared his fascination with the idea of taking history on the road, referring to the B-29 as a type that "changed the world."
"Doc" is currently one of only two flying B-29s in existence. Click below to check out video of the historic flight, as well as local news coverage of the story.
(via KAKE and Doc's Friends)