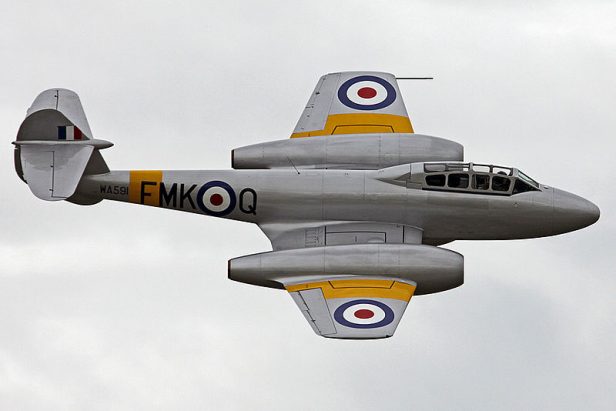 Glostor Meteor T7 "Queenie," touted as the world's oldest original flying jet, has reportedly completed all registration, inspection and final certification requirements following its arrival in the US, and is slated to return to the air.
As previously reported, the aircraft (WA591/G-BWMF) was delivered to the RAF in 1949 and served as a training machine at a number of bases before becoming a gate guard at RAF Woodvale. In 1995 Meteor Flight began restoring the aircraft and it returned to the air at Kemble in 2011. In recent years it operated with Classic Air Force at Coventry, which closed down in 2016 following the retirement of its founder. Last year, it was acquired by Detroit, Michigan-based World Heritage Air Museum (WHAM).
The museum has reported that the Meteor's return to flight is expected to take place on June 18 out of Hampton Roads. Its debut at Oshkosh reportedly remains on schedule, and will appear along with the collection's Vampire and Venom.
(via World Heritage Air Museum and Ultimate Aviation Photo: By Paul Nelhams via Wikimedia Commons)