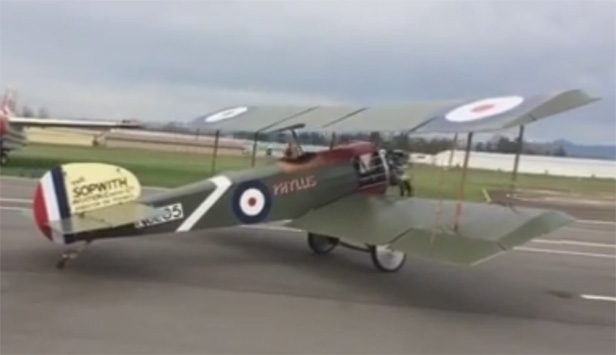 Two Sopwith Pup projects scheduled to participate in the Vimy Ridge centennial ceremony in April are back on track following a significant setback last month.
During a test flight on January 12th, one of the machines suffered an engine failure after experiencing overheating. Although the pilot was able to restart the engine and land safely, both engines were deemed unusable, casting a shadow of doubt over the ability to obtain suitable replacements before the machines are transported to France for the centennial event.
Thankfully, Canadian Museum of Flight volunteer Dave Beales and the Saskatoon Air Museum have stepped forward to offer spare powerplants, while Pro Aero Aviation donated an engine rebuilt kit – all of which were "gratefully accepted."
As previously reported, the full-scale aircraft projects were initatied by the Canadian Museum of Flight as part of Canada's national First World War commemoration program. The two Pups, as well as a four Nieuport kitplanes, are slated to perform a flypast of the Vimy Ridge Memorial on April 9, 2017, marking the 100th anniversary of the Battle of Vimy Ridge, an event which saw four Canadian divisions capture the strategic location from three German divisions, suffering heavy casualties in the process. The machines will then participate in an educational tour across Canada before becoming part of a permanent exhibit at the museum.
(via Canadian Museum of Flight and Vimy Flight)