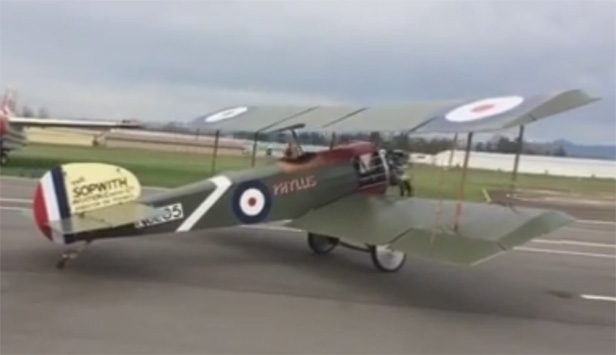 The Canadian Museum of Flight's Sopwith Pup replica returned to the air last week for its first air trials with a newly installed Lycoming engine.
The museum is working on two full-scale Sopwith Pup projects as part of Canada's national First World War commemoration program, however, their participation in a flypast marking the 100th anniversary of the Battle of Vimy Ridge in April was recently called into question. During a test flight on January 12th, one of the machines suffered an engine failure after experiencing overheating. Although the pilot was able to restart the engine and land safely, the engines for both machines were deemed unusable.
As previously reported, a search for suitable replacements began immediately, resulting in Canadian Museum of Flight volunteer Dave Beales and the Saskatoon Air Museum stepping forward to offer spare powerplants, while Pro Aero Aviation donated an engine rebuilt kit – all of which were "gratefully accepted."
Pilot Allan Snowie took the Pup aloft on Friday afternoon to test its new engine, performing a "flawless" test flight around Langley Airport in British Columbia and prompting "smiles everywhere".
The fabric for second Pup has just been completed, and it will hopefully be ready in time for shipment to France and the commemorative flypast on April 9.
UPDATE (3/8/17): Check out this onboard video of the VIMY Flight Pup in action:
A beautiful day in Langley. Ideal for Pup 1 (aka Betty/Phyllis) to spread her wings, add to her hours and prepare for the exciting days ahead.

Posted by VIMY Flight on Wednesday, March 8, 2017
(via Canadian Museum of Flight and Vimy Flight)