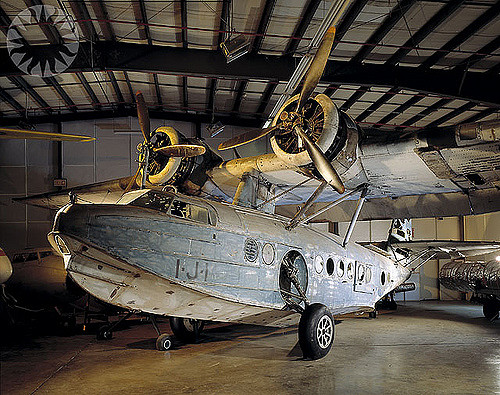 Earlier this week, the Smithsonian's Udvar-Hazy Center in Chantilly, Virginia moved their Sikorsky JRS-1 Pearl Harbor survivor from the restoration area to the exhibit floor, allowing the public to obtain an up close look at this historic aircraft.
As previously reported, the aircraft (Navy bureau number 1063) departed Pearl Harbor on December 7, 1941 amid a barrage of American anti-aircraft fire and headed off in search of the Japanese fleet that had launched a surprise attack on the base, killing more than 2,000 Americans and wounding more than 1,000. The crew, armed with three Springfield rifles, stayed aloft for about five hours, coming within 30 to 40 miles of the Japanese fleet and turning back only when fuel was running low.
The aircraft is not only a link to the events of that day, it is also the only example of the type remaining. It is currently in an unrestored state and, due to its deteriorating condition, the museum has not yet decided on whether to pursue preservation or full restoration.
The JRS-1 is currently equipped with temporary wheels, although the originals, along with the wing floats, will reportedly be installed soon.
Click below to check out a photo of the aircraft on display.