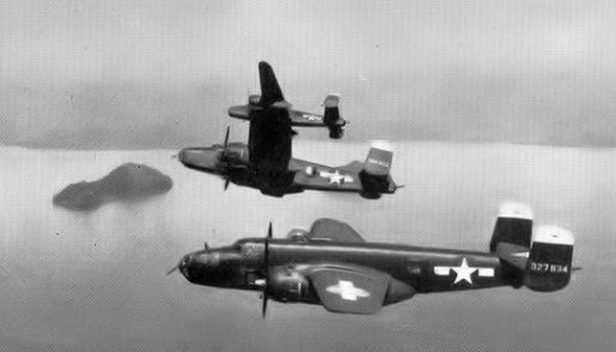 A collaborative effort known as "Project Recover" has resulted in the documentation of two B-25 bombers off the coast of Papua New Guinea.
Their mission, carried out this spring, consisted of mapping the seabed in search of missing aircraft and conducting the first official archaeological survey of a known B-25 wreck. While covering an area of nearly 10 square kilometers, the team discovered the debris field of a second B-25 that crashed nearly 75 years earlier.
The two bombers were carrying six men each. One crew has "long been unaccounted for" while the other was made up of five who survived the crash (becoming Japanese POWs) and one who is still listed as missing.
While the ultimate goal of the team's work is to locate missing servicemen and women and help provide their families with closure, any recovery efforts would be led by the Defense POW/MIA Accounting Agency.
Dan Friedkin, who helped fund the operation, states:
"The latest discovery is a result of the dedication and fervent efforts of everyone associated with Project Recover. We are encouraged at the progress that is being made as our search efforts expand and remain committed to locating the resting places of all U.S. servicemen missing since World War II."
Project Recover is made up of marine scientists and archaeologists along with volunteers from the University of Delaware, the Scripps Institution of Oceanography and The BentProp Project, which specializes in locating aircraft and associated MIAs from WW2. In 2016 alone, team members searched areas in in England, New Caledonia, Palau, Saipan, the Solomon Islands, Tinian and the U.S. seeking over 20 aircraft and 100 missing service members. As a result, five aircraft were reportedly identified and documented.
Check out video of the B-25 wrecks below:
(via Project Recover, Delaware Online and AOL)