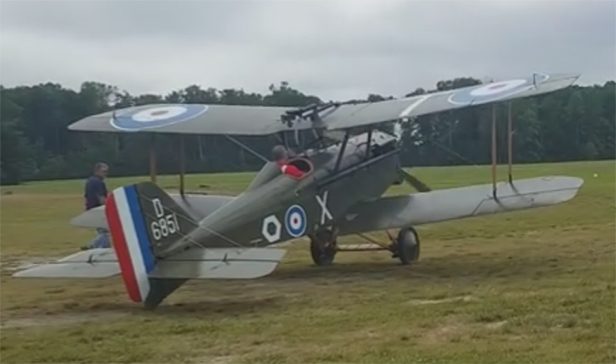 The Military Aviation Museum in Virginia Beach, Virginia has begun taxi tests for its new S.E.5a.
As previously reported, The aircraft was originally built from Replicraft plans and acquired by the museum as an unfinished static project. The experts at Vintage Aviation Services of Kingsbury, Texas were enlisted to perform a painstaking rebuild of the machine, bringing it to an airworthy standard while maximizing historical authenticity.
The finished aircraft is powered by a Hispano-Suiza engine and wears the colors of D6851, flown by Elliott White Springs of 85 Squadron. Click below to check out video of a recent test with builder Roger Freeman at the controls.
Roger Freeman in the SE5a, that he built for us, heading out to give it a taxi test…

Posted by The Fighter Factory on Thursday, June 15, 2017
More of today's taxi tests on the SE5a. Sorry but the golf cart has straight exhaust…. We like noisy things around here…

Posted by The Fighter Factory on Thursday, June 15, 2017

For additional photos and details on the reconstruction of this aircraft, we recommend checking out the first and third issues of Aerodynamic Media's new early aviation journal The Flying Machine: Early Aero Quarterly.
(via The Fighter Factory)