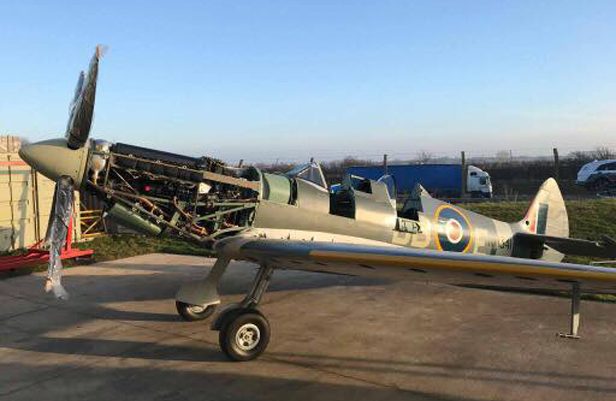 The restoration of Spitfire NH341 has recently reached an important milestone which saw the machine standing on its gear for the first time in 72 years.
The work is being carried out by Duxford-based Historic Flying Ltd, who is converting the aircraft from its original LF Mk. IXb configuration to a dual cockpit T9 version. Beginning next year, the aircraft will become part of the Aero Legends collection, offering passenger flight experiences from Sywell Airfield in Northamptonshire and Headcorn Airfield in Kent.
NH341 was originally delivered in 1944 and served with 411 Squadron RCAF, where it was flown by several pilots. Among them was Flt. Lt. Hugh Charles Trainor, who claimed two victories in the aircraft. The machine was eventually downed during combat with FW190s near Caen, France, with the pilot escaping unharmed. Its remains were recovered and placed on display at the Musee Memorial de la Bataille de Normandie and the Juno Beach Museum before being acquired by Aero Legends in 2011.
Ground running tests are expected to begin shortly. Click below to view additional photos.

Information about upcoming flight opportunities can be found here.
(via Aero Legends)