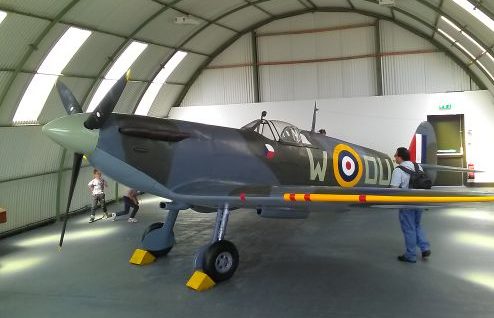 On Sunday, Scotland's Dumfries & Galloway Aviation Museum officially unveiled Spitfire Mk.IIa P7540 following 35 years of restoration.
On October 25, 1941 the aircraft, a Battle of Britain veteran then serving with 312 (Czech) Squadron, departed RAF Ayr on a training mission and proceeded to fly at low level over Loch Doon in Ayrshire. While attempting to bank, a wingtip touched the surface of the water causing the aircraft to crash and the pilot to be killed.
A search by the RAF in the days that followed failed to turn up the remains of the plane or the pilot and the effort was eventually called off. However, work began anew in 1977 when the museum teamed up with the Dumfries Sub-Aqua Club and other affiliated clubs to perform "countless hours of diving" in search of the lost Spitfire. After four years, the initiative paid off.
After being salvaged in 1982, P7540 began restoration, a process that reportedly consisted of "several false starts" before being carried through to completion. A Yorkshire-based expert performed the work on the fuselage but the wings had to be replaced entirely, as they were badly damaged in the crash.
With the unveiling on Sunday, the aircraft's exterior is largely complete, however, the interior still requires significant attention. It is hoped that this too will be completed "within the next couple of years" so people can actually sit in the cockpit.
Check out additional photos below:

(via Dumfries & Galloway Aviation Museum and BBC)