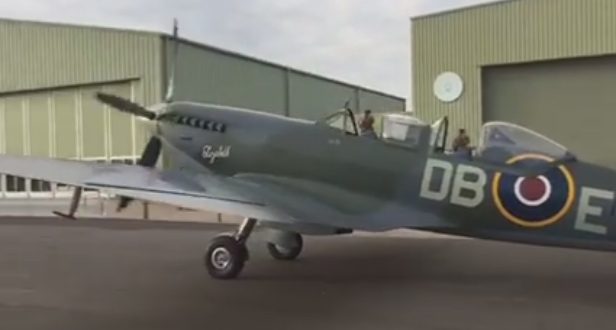 Newly restored Spitfire NH341 performed its first post-restoration flight on March 11th, but the test was cut short when a carburettor issue was discovered.
The anticipated flight drew an assembly of veterans and aviation enthusiasts to the Imperial War Museum's Duxford Aerodrome, where NH341 underwent a painstaking restoration after being acquired by Aero Legends in 2011. One of those on hand was 94-year-old former Lancaster pilot Gerry Abrahams, who said that the engine start made his "heart flutter", stating "that is the best part of a Spitfire". Another attendee was 93-year-old former Dakota pilot Ron Dearman, who described the Spitfire's appearance as "smashing".
The machine, which was converted from an LF Mk. IXb to a dual cockpit T9, will be used for passenger flight experiences from Sywell Airfield in Northamptonshire and Headcorn Airfield in Kent. The date for the next test will reportedly be announced shortly.
Click below to check out a video of the test.
Ahead of today's event, John Romain of the Aircraft Restoration Company flew a short test flight in Aero Legends Spitfire NH341 'Elizabeth'. During this test, a carburettor issue was detected which stopping flying for day. We hope our guests had a great day out and we will shortly post when the next sortie is expected to be.

Posted by Aero Legends on Saturday, March 11, 2017
(via Aero Legends, BBC and The Telegraph)