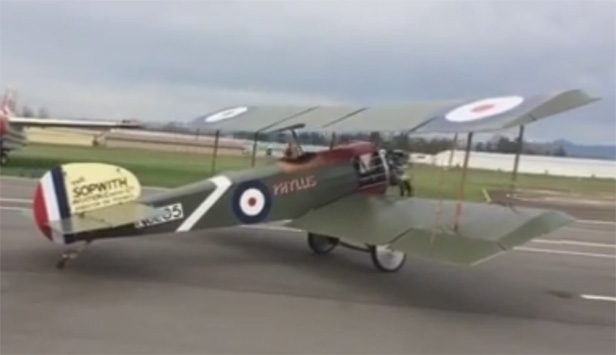 Two Sopwith Pup reproductions built by volunteers at the Canadian Museum of Flight in Langley, British Columbia are returning home after cross-country tour plans were cancelled.
The aircraft were originally built to perform a flypast during the 100th anniversary commemoration of the Battle of Vimy Ridge in the Nord-Pas-de-Calais region of France on April 9, being finished in the colors of N6205, "BETTY" flown by Sub Lt Joseph Fall of 3 Squadron RNAS and N6181, "HMA HAPPY" flown by Flt Lt. Lloyd Breadner of 3 Squadron, RNAS. Although they did make the trip, their participation was limited to static display due to the lack of flight time on their newly installed Lycoming engines.
Upon their return to Canada, the two Pups were slated to make their way across the country as part of an educational tour to commemorate Canadian heroes of the past 100 years and celebrate 150 years of nationhood. However, ongoing mechanical issues have forced the cancellation of those plans and, according to media relations officer Carla Deminchuk, the machines are "temporarily hangared at Abbotsford airport."
Museum Director Dave Arnold says the work is less a repair job and more of a reassembly, as the aircraft had to be taken apart for transport to and from France. They will reportedly be reassembled and all systems tested before "Betty" makes its way back to Langley on Saturday (weather permitting), where it is tentatively scheduled to appear at the annual fly-in of the Langley Aero Club.
As of this writing, the Birth of a Nation tour, consisting of reduced scale Nieuports, appears to be making good progress. The complete tour schedule can be found here.
(via Langley Advance Photo: Vimy Flight Thanks, Pascal!)