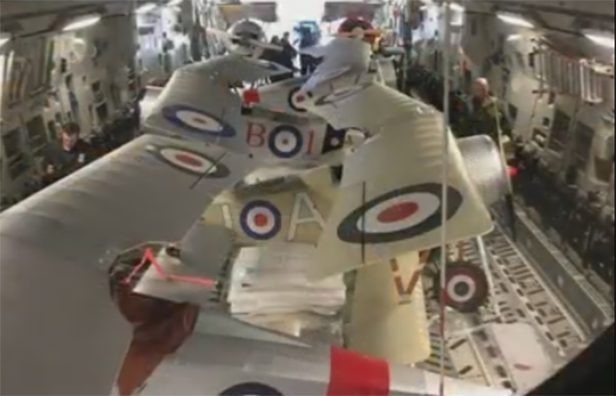 Six WW1 aircraft replicas have been loaded aboard an RCAF C-17 Globemaster at Comox, British Columbia in preparation for a journey to France, where they are slated to participate a ceremony marking the 100th anniversary of the Battle of Vimy Ridge.
The volunteer pilots and builders of VIMY Flight, part of Canada's national First World War commemoration program, will perform a flypast of the Vimy Ridge Memorial on April 9th using a mix of four reduced-scale Nieuports and two full-scale Sopwith Pups.
The Canadian Museum of Flight built the two Pups especially for the occasion, utilizing kits offered by Airdrome Aeroplanes of Holden, Missouri. Upon their return, the aircraft will reportedly conduct an educational tour across Canada before becoming part of a permanent exhibit at the museum.
The Battle of Vimy Ridge was fought from April 9-12, 1917 in the Nord-Pas-de-Calais region of France, and saw four Canadian divisions capture the strategic location from three German divisions, suffering heavy casualties in the process.
Check out the videos below to watch the loading process and learn more about VIMY Flight's efforts.
Bi-plane Tetris is the name of the game!
An amazing day in Comox for the Vimy Flight Association and the Canadian Museum of Flight. 7 Biplanes loaded and locked into position inside the belly of the C17 beast. Huge thanks and praise to the RCAF for their support and gentle hands with the delicate cargo.

Posted by VIMY Flight on Thursday, March 16, 2017

(via VIMY Flight and CTV)