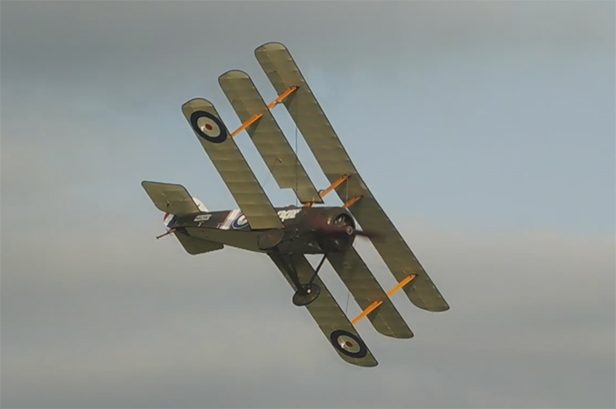 Earlier today, the Shuttleworth Collection's Sopwith Triplane "Dixie" returned to the air over Old Warden Aerodrome in Bedfordshire for its first post-restoration flight.
The Clerget-powered Triplane reproduction was originally built by Northern Aeroplane Workshops in the 1980s, and is so accurate that it was deemed a "late production" model by T.O.M. Sopwith himself. The aircraft suffered a landing accident during a public demonstration on Jun 29, 2014, which required the machine to be stripped down for repairs.
In the process, a number of new parts were installed, including new wheels, a new engine cowling and a new propeller made by Colin Essex.
Click below to check out video of today's successful test.
The #sopwithtriplane Dixie returned to the skies this afternoon for a test flight.

Posted by The Shuttleworth Collection on Monday, March 13, 2017
The welcome sight of #Dixie enjoying being back up in the clouds <3 #sopwithtriplane Successful flight 🙂

Posted by The Shuttleworth Collection on Monday, March 13, 2017

(via Shuttleworth Collection)