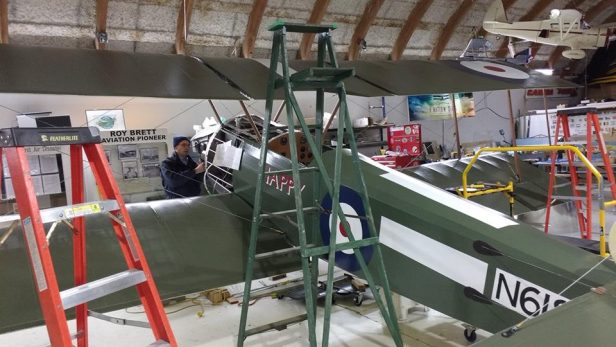 The Canadian Museum of Flight in Langley, British Columbia is nearing completion of their second Sopwith Pup replica for Vimy Flight, part of Canada's national First World War commemoration program.
The aircraft, fitted with a Lycoming engine, is built from an Airdrome Aeroplanes kit and wears the colors of N6181, "HMA HAPPY" flown by Flt Lt. Lloyd Breadner of 3 Squadron, RNAS. When complete, both Pups will be shipped to France to participate in the commemoration of the 100th anniversary of the Battle of Vimy Ridge on April 9.
As previously reported, the team recently overcame a significant setback which required sourcing new engines for both aircraft. The first replica has already performed several flights and is said to be performing flawlessly.
Click below to check out additional images.