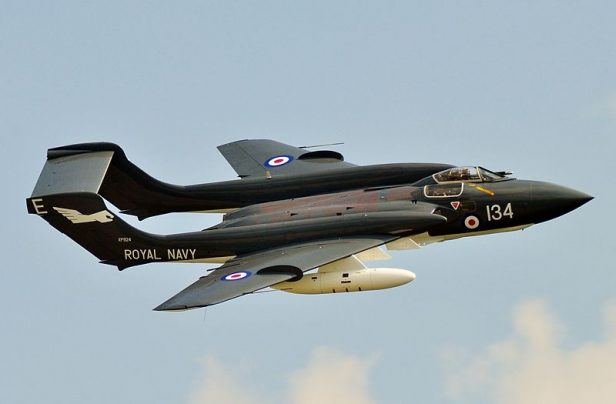 Navy Wings is appealing for a "white knight" sponsor to step forward and help de Havilland Sea Vixen G-CVIX/XP924 return to the air following an undercarriage failure that resulted in a belly landing on May 27.
Damage to the machine's airframe has turned out to be more serious than expected, including "cracks on both tail booms, warping of the main bulkheads in the engine compartment and major damage to the gear box."
The important factor here was speed of landing. The Sea Vixen suffered a major hydraulic failure of both systems and the pilot, Commander Simon Hargreaves was unable to lower the flaps along with the under-carriage. This necessitated a high speed, low angle run on and the energy transferred itself through the airframe.
It has been estimated that restoration could take 3-4 years and cost £2-3 million. Within the month, a sponsor is needed "who would be prepared to come to the rescue and underwrite these costs and save the last flying Sea Vixen in the world, recognising her uniqueness and value to the Nation's naval aviation heritage."
Check out the video below to learn more.

For additional information on the Sea Vixen and associated fundraising click here.
(via Navy Wings and BBC Points West Photo: Lmgaylard via Wikimedia Commons)