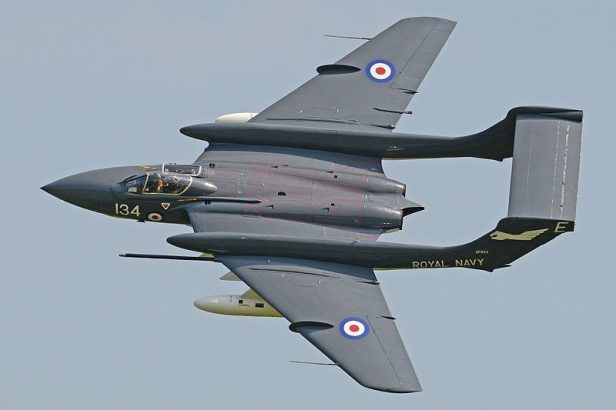 A damage inspection will be carried out following an undercarriage failure that led to a belly landing of the world's only airworthy de Havilland Sea Vixen.
The incident occurred on Saturday following the aircraft's performance at the Duxford Air Show. Displaying "calm professionalism and outstanding flying skills" pilot Cdr Simon Hargreaves performed a highly controlled wheels up landing at RNAS Yeovilton.
The pilot walked away unharmed and is being lauded for "first class airmanship" which "minimised damage to a rare and nationally important heritage jet." The Sea Vixen has since been safely recovered from the runway and an assessment of the damage will reportedly take place over the next few days.
The aircraft (G-CVIX/XP924), dubbed "Foxy Lady," was originally an FAW.2 variant and served with 899 NAS until being retired and converted to a D.3 type. In 1991 it was acquired by Gwyn Jones who, along with ex-Sea Vixen pilot Marcus Edwards, succeeded in returning the iconic twin-turbojet cold war fighter to the air. The machine performed at UK airshows and passed through the hands of a number of owners before being acquired by Fly Navy Heritage Trust/Naval Aviation Ltd, a subsidiary of Navy Wings – a Yeovilton-based organization that "unites a range of owners and operators of historic Naval aircraft" to tell "an impressive story of the very best of naval aircraft development."
Navy Wings states that it will "make every effort to get the Sea Vixen repaired and back in the air as soon as possible" and are accepting donations to help achieve this end.
Click below to check out videos of Saturday's belly landing as well as the machine's subsequent removal from the runway.
FIRST VIDEO EMERGED OF WORLD'S ONLY FLYING SEA VIXEN TAKING A BELLY LANDING WITHOUT LANDING GEAR AT RNAS YEOVILTON. PLEASE SHARE

Credit : 85RAG on YouTube

Posted by Low Flying Aircraft on Sunday, May 28, 2017
The Sea Vixen was safely moved from the runway today and assessors will carry out an inspection of the damage over the next few days. The Trust would like to thank all the Sea Vixen supporters and well wishers. NavywingsUK Facebook page is the official page for Sea Vixen news and updates. To see how you can help, check out navywings.org.uk

Posted by Navy Wings on Tuesday, May 30, 2017
(via Navy Wings, 85RAG and Low Flying Aircraft Additional Information via Thunder & Lightnings Photo: Alan Wilson via Wikimedia Commons Thanks, Pascal!)