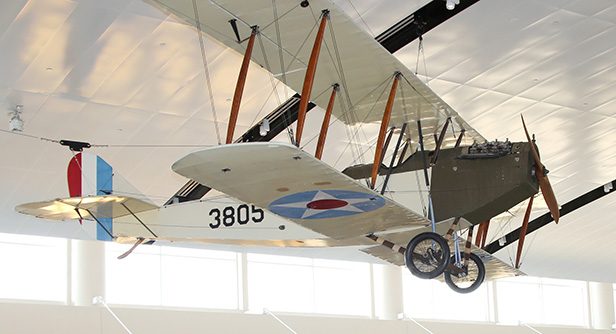 Thanks to a new partnership with the Witte Museum, the city of San Antonio, Texas has been loaned a restored Curtiss JN-4D Jenny that is now on display at San Antonio International Airport (SAT).
According to Michael Antonelli's new book Aeroplanes: A Compilation of the World's Original Aircraft Built Before 1920, the Jenny (S/N 3805) was formerly on loan to the Edward H. White II Memorial Museum at Brooks AFB for 30 years prior to is closure in 2011.
The machine was most recently housed in a hangar at Port San Antonio (the former site of Kelly AFB), which is being redeveloped to serve as a 1,900-acre industrial campus for aerospace, advanced manufacturing, cybersecurity, logistics and defense organizations.
The Jenny was installed in SAT's Terminal B on October 23rd as part of a collaboration between SAT and the Witte to highlight San Antonio's place in aviation history, which includes the first U.S. military flight at Fort Sam Houston in 1910 and the founding of Stinson School of Flying in 1915. It is reportedly visible from anywhere within the terminal and is accompanied by information posted on columns beneath the display.
Check out additional photos below.

(via San Antonio International Airport and Witte Museum Additional Information via Joint Base San Antonio)