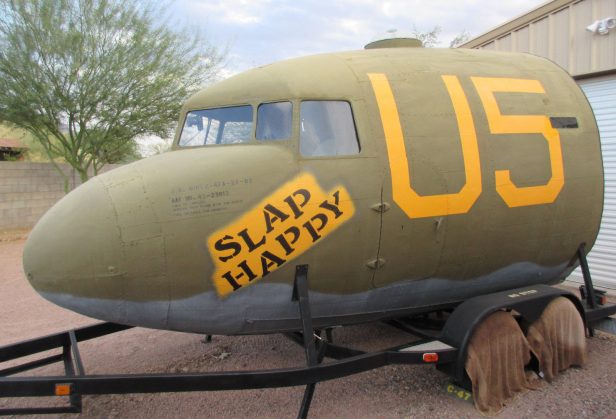 An original, fully-restored C-47 forward fuselage/cockpit has hit the market.
The section is mounted on a trailer and is said to feature both pilot and co-pilot stations (with complete instrument panel, throttle quadrant, rudder pedals, control yokes, seats, floor panels, overhead panels, windows, headphones and microphones), navigator's station (with map table, several instruments, a drift meter, a wooden stool, a Gibson girl bag, fire extinguisher, headphones and microphone) and radio station (with a metal seat, headphones and a microphone, a BC-348 receiver mounted on a table with a Morse code key, and a BC-375 transmitter with all the different tuning units mounted on tables and metal shelving).
Additional features reportedly a hydraulic reservoir in place along with the pressure accumulator tank, the correct observation dome and data plates made for the project. The exterior is painted with D-Day markings on the left side and Operation Market Garden markings on the right side.
The fuselage section is located in Apache Junction , Arizona and is being offered for $35,000. Click here to check out the complete listing.