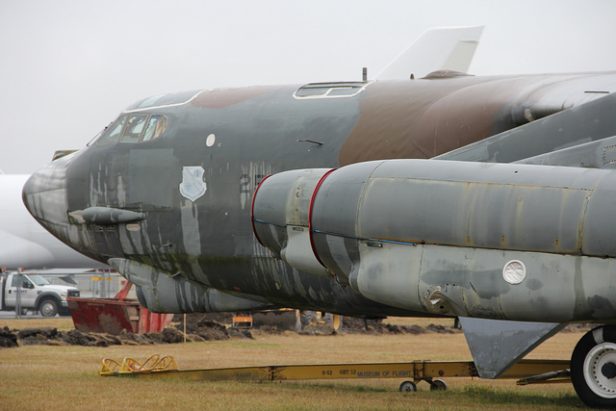 The effort to restore the Museum of Flight's B-52G Stratofortress "Midnight Express" for a proposed memorial park is making headway, with crews having already prepped and painted the airframe with new layers of camouflage.
As previously reported, the aircraft, S/N 59-2584, has been parked outdoors at the museum's Paine Field facility in Washington State for the past 26 years. The current $2.2 million effort will see it restored for use as the centerpiece of a new Vietnam Air War Memorial Park will pay tribute to the aircraft of the Vietnam War and honor the service members who flew and supported them.
When the exterior restoration is complete, the bomber will be partially disassembled, moved to the memorial park on west side of the Museum's Aviation Pavilion and reassembled. The project will also involve site development and other landscaping.
Click below to check out photos of the aircraft during the painting process.

Those who wish to contribute to the effort can do so by clicking here.
(via Museum of Flight Top Photo: Clemens Vasters via Flickr)